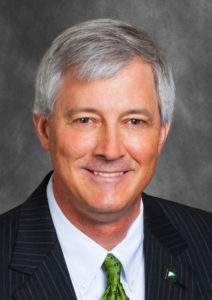 Berryville, Virginia (June 13, 2019) – The Clarke County Education Foundation is thrilled to announce the formation of a newly endowed scholarship fund in honor of Mr. John "Johnny" R. Milleson, the John R. Milleson Endowment Scholarship. Mr. Milleson will retire as the President and CEO of the Bank of Clarke County on July 5, 2019.  These funds will be used each year to award a scholarship to a graduating Clarke County High School senior who is a first-generation college student.  The fund was opened by members of the Board of Directors of the Bank of Clarke County with initial pledges totaling over $50,000.
Johnny Milleson was born and raised in Clarke County, Virginia.  He graduated Clarke County High School in 1974 and then went on to graduate with his BS in Economics from Bridgewater College.  After Bridgewater, Johnny attended Shenandoah College and graduated in 1995 with his MBA.  He started his career working for Barbour, Drunagel and Renner CPA as an accountant.  In 1980 he began working for Shenandoah Valley National Bank where he worked for 4 years as an auditor and loan officer.  In 1984, Johnny began his career with the Bank of Clarke County.  Mr. Milleson has been the President and Chief Executive Officer of both the Company and the Bank since 1999. From 1997 to 1999, he was Executive Vice President and Secretary-Treasurer of the Company and Executive Vice President and Chief Administrative Officer of the Bank. Johnny also served as the former State Chair of the Virginia Bankers Association and currently serves on two national committees for the American Bankers Association.
In addition to working for the Bank of Clarke County, Johnny has served tirelessly as a volunteer for many local organizations including, the Clarke County Education Foundation, the Boy Scouts of America, Grace Episcopal Church, the Clarke County Lions Club, Chair of the Clarke County Economic Development Advisory Committee, and a member of the Endowment Committee at Shenandoah University.  During his time with the CCEF, Johnny served as a Board member from 2004-2010.
Johnny lives in Clarke County with his wife, Bette.  He also has two sons, Alex and Josh.  Josh is married to his wife Nikki and has daughters Alina, Ashlyn and Maleigha.
The Clarke County Education Foundation is proud to recognize Johnny's legacy with this permanently endowed scholarship fund in his honor.  Johnny will also be the Guest of Honor at the CCEF's 22nd Annual Gala on September 21st at Shenandoah Valley Golf Club.
The Clarke County Education Foundation, established in 1991, is an independent public charity dedicated to promoting, expanding, and augmenting the educational opportunities for students and staff in the Clarke County Public Schools, by generating private support and involvement to enhance these publicly-maintained services. The CCEF has provided more than $2.5 million in student scholarships, teacher grants, system demonstration grants, and donor-defined projects through a combination of fund-raising and endowment income since its inception.  For more information visit www.ccefinc.org
For more information regarding the John R. Milleson Endowment Scholarship, how to donate to this fund or information regarding the CCEF, please contact Beth Williams, Clarke County Education Foundation Executive Director, at 540-955-6103 or ccefinc.berryville@gmail.com.
###