Berryville, Virginia (August 12, 2019) – The Clarke County Education Foundation announced 16 teachers who will receive a total of $7,500 in classroom materials from its Classroom Impact Grant program. Since 1991, the Foundation has provided countless grants for Clarke County Public Schools teachers.  The 2019 Classroom Impact Grant recipients will collectively serve over 1,900 students in a broad variety of programs at Clarke County High School, Johnson-Williams Middle School, DG Cooley Elementary School and Boyce Elementary School.   Teachers were awarded their grants on Friday, August 9, 2019 at Clarke County Public School's Annual Convocation Ceremony.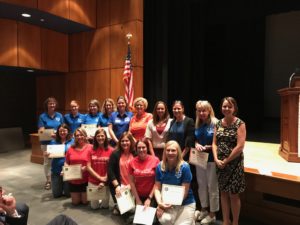 The 2019 Classroom Impact Grants are a new type of grant being offered by the Foundation.  The grants offer up to $500 to teachers who have an idea of how to impact students, but need a little help to make it happen.  "We are thrilled to help begin this new grant program in Clarke County," said Beth Williams, Executive Director of the Clarke County Education Foundation.  "Our goal is to help our teachers who have incredible visions for our students, and make our grant process more streamlined and easily accessible for teachers to apply." CCPS teachers submitted their grant ideas online.  Grants were then approved by school principals and Dr. Bishop, CCPS Superintendent.  Once all approvals were met 16 grants were presented to the CCEF Board, who reviewed all grant applications and were able to award all 16 applications!
A detailed listing of 2019 Classroom Impact Grant recipients is below.
Clarke County High School:
 Putting it Together by Christine Brewer
"Bit by bit, putting it together
Piece by piece, only way to make a work of art
Every moment makes a contribution
Every little detail plays a part"–from the musical Sunday in the Park with George.
For the CCHS musical, those details need tools to help them get put together. A tool kit will help students become a part of the production as they help build and paint the sets for the CCHS shows.
CCHS Game Lab by Elyse DeQuoy
The CCHS Game Lab, housed in the Library, will contain a variety of cooperative style games for students and staff to use either in or out of the classroom creating opportunities for innovative learning, collaboration, critical thinking, and communication. These games directly tie to content areas and SOLs being taught across all grade levels allowing this project to reach the entire student body with a nontraditional teaching tool.
Johnson-Williams Middle School:
Entrepreneurship & Microcontrollers by Patrick Waters
In the Entrepreneurship & Microcontrollers project, students learn the principles of product design and marketing while developing a commercial product for use in a self-chosen industry. Students have built agricultural devices, wildlife trackers, home assistants, timers to automatically feed pets, light shows for rock bands, fashion items and cutest of all, stress-relieving teddy bears for children in long term hospital stays. The only limit is the student's imagination.
Woodworking Equipment for New Middle School Agriculture Program by Lauren Marzetta
Students will complete small woodworking projects in the 6th, 7th, and 8th grade agriculture classes to develop basic skills used in agricultural mechanics. The specific projects will vary depending on the students' grade and skill level. Examples of projects students may complete include: birdhouses, tool boxes, picture frames, clocks, step stools, planters, etc. Students will be responsible for reading and interpreting the project plan, measuring and cutting the wood, constructing, sanding, and finishing (staining or painting) the project. Students will be able to keep their projects once they have been completed.
DG Cooley Elementary School:
 Document Cameras by Barbie Yeager, Jennifer Strosider, Paige Rickey and Catherine Barrett
What a wonderful way to model how to complete activities and share individual student work with the class. In math, students can show how they got their answer to the whole class. In reading, students could share their writing and spelling word sorts. Whole class science experiments can be done so that everyone can see up close. During daily five and math rotations, a teacher example can be put on the smartboard so independent groups can have a reference to complete the assignment without interrupting other students learning. Books can be shared with the class in a new way. For example, we could highlight, underline and point out details in the book and everyone will be able to see it.
Sensory/Activity/Movement Break Space by Jennifer Mooney
This project will serve to provide a sensory base for all students in the school. Specifically, this will help our Special Education students who have sensory needs, fine and large motor development delays, as well as, student who frequently require movement breaks. This space would inspire movement and utilize their senses, encourage problem solving, language development, and motor skills, as well as letter and number recognition.   This will also benefit our TDT and behavior response team students who often need small breaks throughout the day to reset and return to class.   These spaces will also be used by our PT, OT and speech therapists, as well as our PE department and also indoor recess activity on inclement weather days.   Due to the size of our school, several locations have been identified within the school for convenient access to all students.
Handwriting Without Tears by Jennifer Hornbaker, Pam Murphy, and Kim Lynn
Handwriting Without Tears uses a multisensory approach and developmentally appropriate strategies to enhance handwriting from pre-writing to cursive. Children begin to imitate the act of writing by creating drawings with symbolic markings that represent their thoughts and ideas as early as the age of two. Using this program with the Pre-K Readiness & Writing Kit in our Preschool program will give our students a strong foundation with handwriting that will lead to success in all subjects and developmental areas. Research shows that handwriting is a foundational skill that can influence students' reading, writing, language use, and critical thinking (Saperstein Associates 2012).
Library of Comprehension Read Aloud Books by Sherry Newman
Cooley Elementary Reading Specialists have set a goal for the 2019-20 School Year to improve all students' comprehension through explicit instruction of comprehension strategies across all grade levels. Research shows one of the best ways to teach comprehension strategies is through teachers modeling while reading aloud to students. (Think Aloud technique) To help implement this goal, Cooley's Reading Specialists will be developing a library of recommended read aloud books that correlate with different comprehension strategies. We are requesting money to purchase hardback books to develop this library.
Library of Think Aloud Books for Comprehension Instruction by Donna Shaughness
D.G. Cooley Elementary School Reading Specialists have set a goal for the 2019-20 School Year to improve all students' comprehension through explicit instruction of comprehension strategies across all grade levels. Research shows one of the best ways to teach comprehension strategies is through teachers modeling "think aloud" to students. To help implement this goal, Cooley's Reading Specialists will develop a library of recommended "think aloud" books that correlate with different comprehension strategies. We are requesting money to purchase books to develop this library.
Boyce Elementary School:
Summer Reading by Susanna Gawrysiak
Boyce Elementary School implemented a summer reading program in which reading and technology were combined. Students watched videos of teachers reading chapters of the book and were able to follow along with their own book. Comprehension questions and activities were be provided via Google Classroom.  This grant provided copies of books for all 4th and 5th grade students to participate.
Spelling City Spelling/Word Work /Vocabulary Online program by Kelly M. Brittin
Spelling City (www.spellingcity.com) is a great resource for students in the classroom when working independently at a word work station.  Ms. Brittin has been subscribing to this online site on her own now for the past 4 years because it makes a difference in her classroom and the students enjoy it as a learning tool. It is a huge asset to our literacy program here in Clarke. Ms. Brittin loves how engaged students are when they are using it at a word work center. It is hard having students not be able to work with a teacher at every station but having a program that allows for targeted practice really helps keep everyone on track with his/her learning goals! Students love the variety of choices they have to practice with and the program does a nice job of differentiating the activities.  Parents find the program beneficial as well because their child can use it at home to practice the pre-selected activities for their child's word list. There is also a mobile app for parents to download!
The Clarke County Education Foundation, established in 1991, is an independent public charity dedicated to promoting, expanding, and augmenting the educational opportunities for students and staff in the Clarke County Public Schools, by generating private support and involvement to enhance these publicly-maintained services. The CCEF has provided more than $2.5 million in student scholarships, teacher grants, system demonstration grants, and donor-defined projects through a combination of fund-raising and endowment income since its inception.  For more information visit www.ccefinc.org
For more information regarding the Classroom Impact Grants, how to donate or information regarding the CCEF, please contact Beth Williams, Clarke County Education Foundation Executive Director, at 540-955-6103 or ccefinc.berryville@gmail.com.
###