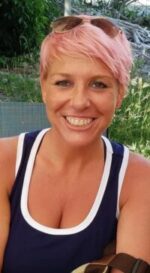 The Clarke County Education Foundation is proud to announce a new educational scholarship in the memory of Mary Margaret McMichael, known to everyone who knew her as "Marty". She was a graduate of Clarke County High School in the class of 1992.
This $500 yearly, merit scholarship will be awarded to a graduating senior of CCHS, who is advancing to a 4 year college, with at least a 3.5 GPA and is highly involved in school activities. The scholarship may be need based and a 1 page essay will be required: Who are you and why is education important to you?
This scholarship was created by Paul and Evelyn McMichael in loving memory of their beloved daughter, Marty McMichael. Her family and friends remember Marty as kind, thoughtful, beautiful, and extremely intelligent. Her positive attitude and energy were reflected in everything she set out to do. Marty had a great sense of humor, and loved to read, write, and cook. She was extremely outgoing and a friend to everyone. Marty was a rare human – she never forgot an occasion, always checked on her loved ones and friends, and she was extremely generous. She continued her thoughtfulness, despite fighting her numerous health problems. She was beautiful inside and out. You always knew when Marty arrived, she lit up the room…. she was one of a kind!
The McMichael family moved to Clarke County in 1982. Marty started school in Clarke County at Boyce Elementary in the third grade. Her younger brother, Bryan, started first grade and her sister, Amy in 7th grade. Marty went on to attend Johnson-Williams Middle School and Clarke County High School. She absolutely loved school, and excelled in her classes, clubs, and activities. She played volleyball and basketball through the 11th grade. She mentored for the Commonwealth Attorney her senior year. Marty was active in many clubs including the National Honor Society, Key Club, PAL, JCL, and a Class Officer every year. Marty graduated with honors from the Clarke County High School Class of 1992. She attended George Mason University and majored in Communication. Marty pursued a successful career in Retail Management and held important positions with several Fortune 500 companies throughout her life.
Marty loved her family, friends and her precious dogs Jack, Lance, and Gracie. She loved to travel and enjoy her life. She once lived in St. Croix for 3 years, experiencing life in her "Happy Place", and made lifelong friends there. Marty found Joy in her many life experiences and lived life to the fullest.
Education was so important to Marty, and she applied her extensive knowledge to every aspect of her life. To honor our special daughter, we have established the Marty McMichael Memorial Scholarship to help a qualified Clarke County High School graduating Senior continue their education, achieve their goals and fulfill their dreams of success.
---
The Clarke County Education Foundation, established in 1991, is an independent public charity dedicated to promoting, expanding, and augmenting the educational opportunities for students and staff in the Clarke County Public Schools, by generating private support and involvement to enhance these publicly-maintained services. The CCEF has provided more than $3.2 million in student scholarships, teacher grants, system demonstration grants, and donor-defined projects through a combination of fund-raising and endowment income since its inception. For more information visit www.ccefinc.org
For more information regarding the Marty McMichael Memorial Scholarship, please contact Beth Williams, Clarke County Education Foundation Executive Director, at 540-955-6103 or email ccefinc.berryville@gmail.com.  For those interested in donating to this fund, checks may written to Clarke County Education Foundation with Marty's name in the memo line and sent to CCEF, PO Box 1252 Berryville, VA 22611 or may be accepted on the CCEF's website by clicking here: https://ccefinc.org/donate/