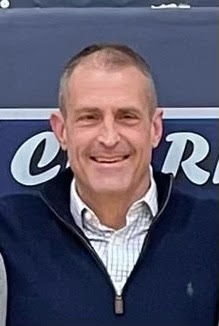 Berryville, Virginia (March 23, 2023)– The Clarke County Education Foundation announces a new scholarship in loving memory of Coach Brent Emmart. This scholarship was formed in partnership with the Eagles Athletic Association, a group of parents who work to fund the athletics programs at Clarke County High School. The scholarship will provide at least a $500 scholarship to a graduating senior who is a member of the Men's or Women's Varsity Basketball team at Clarke County High School. The award will be given to the teammate who has shown an exemplary amount of dedication, commitment, and grit on and off the Basketball Court. The student will be continuing their education at a 2 or 4 year college or university and have a GPA of 2.5 or higher.
The Clarke County community tragically and unexpectedly lost Coach Emmart, age 52, on March 15, 2023. He passed away at his home in Augusta, WV with his daughters by his side. He leaves behind two daughters, Emily and Jillian, both students at CCHS and his son, Ethan who graduated CCHS in 2012. Brent Emmart was the head varsity basketball coach at Clarke County High School for 26 years, winning nearly 400 career games. The legendary coach led the team to back to back State Titles in 2006 and 2007, was named to the Clarke County Hall of Fame in 2010, and most recently helped his Eagles take a share of the District Championship. Emmart coached teams that also won a total of 8 Bull Run District regular-season titles, 5 district tournament titles and 1 region title. 
Emmart was also a football assistant coach for 27 years and has been a teacher in Clarke County's physical education and health department throughout his involvement with Eagles athletics. This year, he taught ninth-grade P.E. and health and also weight training. Throughout his time at Clarke County High School, he impacted the lives of thousands of students. His death has been a tremendous loss for our Clarke County community and we hope this scholarship will help memorialize Coach Emmart and his acts of service forevermore.
For more information regarding the Coach Brent Emmart Memorial Scholarship, please contact Beth Williams, Clarke County Education Foundation Executive Director, at 540-955-6103 or ccefinc.berryville@gmail.com. For those interested in donating to this fund, checks may written to Clarke County Education Foundation with Coach Emmart's name in the memo line and mailed to PO Box 1252, Berryville, VA 22611 or may be accepted on the CCEF's website: https://ccefinc.org/donate/
The Clarke County Education Foundation, established in 1991, is an independent public charity dedicated to promoting, expanding, and augmenting the educational opportunities for students and staff in the Clarke County Public Schools, by generating private support and involvement to enhance these publicly-maintained services. The CCEF has provided more than $3.3 million in student scholarships, teacher grants, system demonstration grants, and donor-defined projects through a combination of fund-raising and endowment income since its inception. For more information visit www.ccefinc.org
###