Berryville, VA, May 16, 2023 – For the 3rd year in a row, the Clarke County Education Foundation is thrilled to announce the finalists for the Rosemont Leadership Scholarship.  This scholarship was created to recognize the student with the greatest leadership potential from Clarke County High School's graduating class.  The Rosemont Leadership Award is the CCEF's most prestigious and largest scholarship to date, with the recipient receiving a $10,000 award. The scholarship models the Star Leadership Award, a scholarship from the Byrd Family of Newspapers, which was given locally for many years and was discontinued in 2018. The award will be presented Sunday, May 21st at 6pm at CCHS's Senior Recognition Night.
"When the Star Leadership Award ended, it left a huge gap in the recognition of students in the senior class each year. Not only was the scholarship a huge help financially to one student, but it gave students in the graduating class something to aspire to and was truly such an honor to even be nominated." said Executive Director of the CCEF, Beth Williams. "Mr. Genda's generosity allows for this tradition to live on in our awesome Clarke County community and we are so incredibly grateful for his partnership!"
Biff Genda, owner of Historic Rosemont in Berryville, approached the foundation with the idea of starting this new scholarship. He offered to donate $5,000 toward the scholarship each year in exchange for the CCEF matching that amount, making the scholarship a total of $10,000 annually. He also generously offered to open Rosemont to the foundation for its annual gala, free of charge, to assist the foundation in its fundraising efforts. The gala was held this year on March 17th with over 200 attendees present and raised over $80,000 for the CCEF and its mission of promoting, expanding, and augmenting the educational opportunities for students and staff in the Clarke County Public Schools.
The teachers and staff of Clarke County High School voted on the top 4 leaders from the Class of 2023. A point based system was then used to select the final 4 nominees.  Those nominees are (in alphabetical order):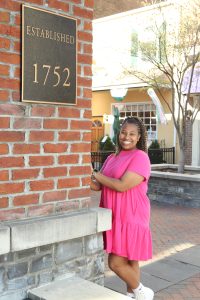 Carleigh Janae Kidrick
Carleigh Kidrick, a Clarke County High School 2023 graduate, has attended Clarke County Public Schools since elementary level. As she has grown over the years, she has become an asset to the community. During her years at Clarke County High School, she has served as a member of Interact Club which works hand in hand with the local rotary club on service projects(local and global) and also as a member of the National Honor Society. Carleigh has worked diligently as football manager since 2019. Along with being a part of CCHS football, Ms. Kidrick has also been a member of  Health Occupations Students of America (HOSA) all 4 years of high school. Carleigh plans to continue her academic studies at Shepherd University in Shepherdstown, West Virginia and will be majoring in nursing. Since 2022, Carleigh has kickstarted her career as a Certified Nursing Assistant at Winchester Medical Center. In her spare moments, Carleigh enjoys being an aunt and big sister to the littles in her family.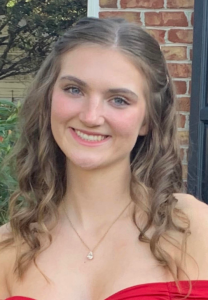 Ella Grace O'Donnell
Ella O'Donnell was born and raised in Clarke County. She has an older sister, Katie Mcclenahan (married to Nick Mcclenahan), and an older brother, Dan O'Donnell (engaged to Makayla Thomas). Her parents are Thomas and Lorie O'Donnell. Ella O'Donnell is student body president, vice president of HOSA, annual reporter for DECA, member of National Honor Society and Interact club. Ella was the 2022 homecoming queen for CCHS. She is a captain of her varsity soccer team. She has been a member of the varsity team since her freshman year and was a part of the 2021 state championship team. Ella competed in DECA district and state competitions three years as a high school student.
Ella has obtained her Certified Nursing Assistant license while in high school and worked as a C.N.A. at Winchester Medical Center. Ella has also worked at Heritage Childcare Development Center in Clarke County. She has volunteered with the Clarke County 4-H program, the Evans Williams Home, the Mary Hardesty House, the Commonwealth Nursing Home and the Clarke County Ruritan's Club. Ella will be attending the University of Kentucky this fall as pre-nursing major. It is Ella's dream to obtain her nursing degree so as to continue to provide and care and comfort for individuals.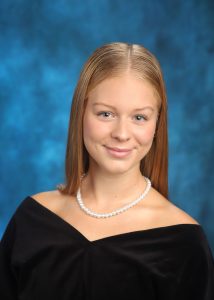 Julianna Marie Pledgie
Julianna Pledgie is a graduating senior at Clarke County High School. Post graduation, She will attend the University of Virginia to double major in biology and astronomy in pursuit of a career in Astrobiology. Julianna has excelled in her academics, having studied as a NASA High School Intern and two-time Virginia Space Grant Consortium Scholar, and in her leadership, presently acting as the Senior Class President, CCHS Interact Club President, and CCHS National Honor Society Vice President. She has received multiple awards of high honor, including the National Society of the Daughters of the American Revolution Good Citizen Award and the College Board 2022 – 2023 National Rural and Small Town Scholar Recognition Award. Julianna has also dedicated herself across multiple extracurriculars, aiding the CCHS Girls Cross Country team in their 2022 State Champions title and 2023 State Runner-up title, competing on the CCHS Scholastic Bowl team, and contributing more than 100 hours of volunteer service to her community. In her free time, Julianna enjoys reading, baking, playing tennis, and ballroom dancing.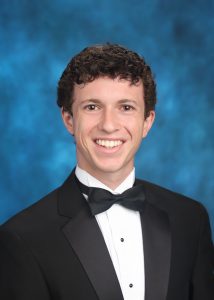 Graham Worden Wolford
Graham Wolford is a charismatic leader of Clarke County High School's class of 2023.  Graham Wolford has held leadership positions in various organizations in the school, and has been involved in many more. One of Graham's most involved positions is his role as the president of Clarke County's DECA chapter. He earned this role after competing in DECA for all four years of high school and serving as an officer during his junior year. Graham has been an officer in Interact Club his junior and senior years of high school, helping to organize and fundraise for community service projects. Throughout high school, Graham has also been involved in SCA, National Honor Society, Environmental Club, Spanish Club, the IB Diploma Programme, cross country, track, tennis, basketball, and has been a member of the Yearbook staff. Graham's favorite memory from high school is when he attended the Spanish Governor's World Language Academy for 3 weeks in the summer of 2022, where he spoke strictly Spanish and didn't have access to a phone. Next year Graham will be attending the College of William and Mary as a Monroe Scholar, and plans to pursue a degree in Business Finance with a minor in Spanish. He then hopes to attend law school and become an in-house lawyer for a business.
The scholarship is being judged by a 6-person committee of local community members. This year the committee members are:
Mayor Jay Arnold
Mayor Arnold has been serving on the Berryville Town Council as Vice-Mayor since 2006 and has been Mayor since 2020.  He is a lifelong resident of Berryville and graduated from Clarke County High School 1977.  He is a Life Member of Volunteer John H. Enders Fire Company & Rescue Squad and also volunteers with Berryville Main Street with special events.
Matthew Bass
Matt Bass grew up in Clarke County, graduating from Clarke County High School before attending college at the University of Virginia and later earning his law degree from the University of the District of Columbia's David A. Clarke School of Law. But while he is a lawyer with Winchester-based Harrison & Johnston, PLC on most days, Matt is also an elected member of the Clarke County Board of Supervisors, representing the Berryville District, where he lives with wife Kelbi and children Sadie and Greyson. Matt's hobbies include golfing, coaching his kids' sports, producing music, and writing children's books.
Lauren McKay Cummings
Lauren Cummings is a Communications Strategist with Navy Federal Credit Union where she manages internal communications projects. Prior to joining Navy Federal in May 2022, Lauren served as Executive Director of the Northern Shenandoah Valley Substance Abuse Coalition for more than six years. She graduated from James Madison University in 2005 and spent nearly a decade working as a television reporter, producer and anchor. Lauren is a lifelong resident of the Northern Shenandoah Valley and graduate of Clarke County High School.
Kristin Foltz
 Kristin (Lyttle) Foltz was born and raised in Clarke County, graduating from Clarke County High School in 1999, and continues to live in the county with her husband, two children and her American Mastiff "puppy". Kristin has worked at the Bank of Clarke for 12 years as SVP/Controller in the Finance Department. When she's not running around between basketball courts, soccer and football fields and track and field events, she enjoys playing handbells and assisting with the treasurer duties at Berryville Baptist Church.
Gwendolyn Malone
Ms. Malone is a retired Clarke County Public Schools teacher.  She now spends her time participating as a Clarke County Planning Commissioner, Berryville Planning Commissioner, and is a member of the  Berryville Planning and Zoning committee.
Tony Roper
Sheriff Tony Roper was born and raised in Clarke County and graduated Clarke County High School in 1978. He began his law enforcement career as a dispatcher, became a correctional officer, a field deputy, and then an investigator. He was first elected Sheriff in 2003. He is dedicated to serving Clarke County's residents, business owners, and visitors.
Sheriff Roper is a founding member of the Northwest Virginia Regional Drug Task Force and a regional FBI Drugs and Violent Crime Task Force. He graduated from the Virginia Forensic Science Academy, the executive-level law enforcement training from the FBI National Academy at Quantico, and the National Sheriff's Institute in Longmont, Colo. He attended Bluefield College in Virginia.  Sheriff and Mrs. Roper live in the Wildcat Hollow area of Clarke County and have three grown children.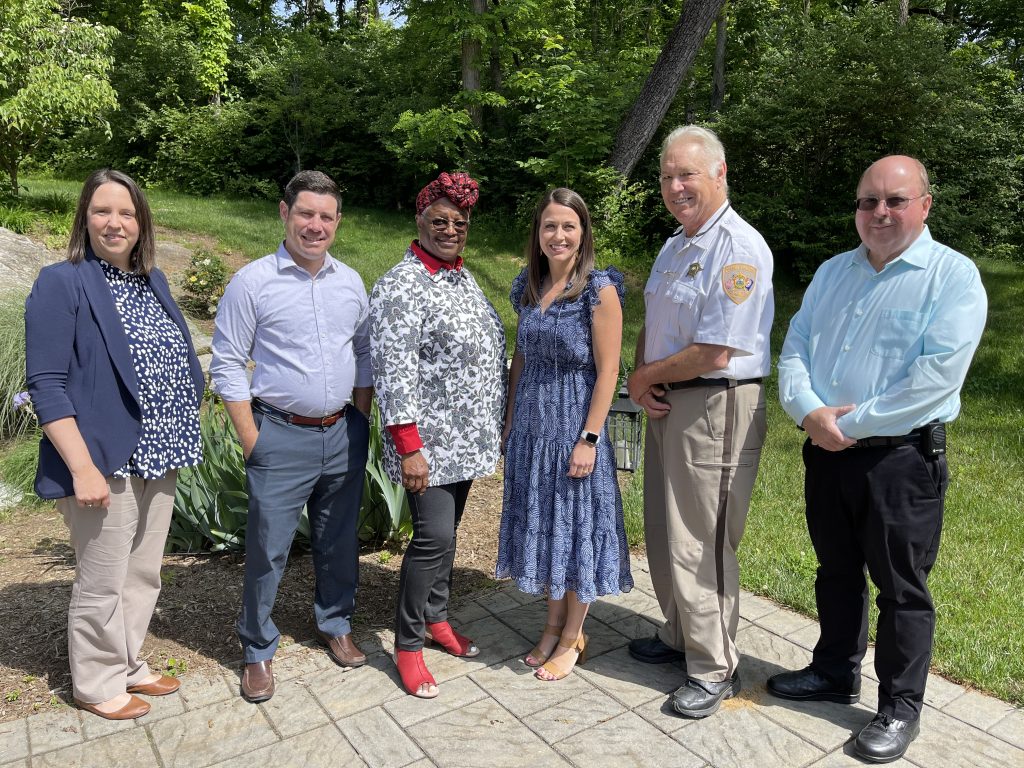 The Clarke County Education Foundation, established in 1991, is an independent public charity dedicated to promoting, expanding, and augmenting the educational opportunities for students and staff in the Clarke County Public Schools, by generating private support and involvement to enhance these publicly-maintained services. The CCEF has provided more than $3.2 million in student scholarships, teacher grants, system demonstration grants, and donor-defined projects through a combination of fund-raising and endowment income since its inception.  For more information visit www.ccefinc.org
For more information regarding this scholarship, The Rosemont Leadership Award, how to donate to this fund or information regarding the CCEF, please contact Beth Williams, Clarke County Education Foundation Executive Director, at 540-955-6103 or ccefinc.berryville@gmail.com.