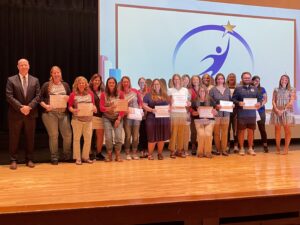 Berryville, VA, August 18, 2022 – The Clarke County Education Foundation (CCEF) is pleased to announce our Classroom Impact Grant recipients for the 2022-2023 school year.  The recipients were announced at CCPS's Convocation event held on August 16th.  19 teachers were selected this year who applied to the CCEF with innovative classroom projects.  Classroom Impact Grants were created to allow teachers a funding source for new and innovative projects as they begin the school year.  This year, the following teachers will begin the school year able to implement a new project or idea in their classroom.  Congratulations to the following teachers:
 Interactive Literacy Instruction for the Boyce MD Program– Victoria Fowler & Amelia Erickson, BES
 This project will enhance our students' ability to engage with literature by providing them with tangible, interactive, visual supports in order to retell, answer questions, and re-enact popular stories.
 Exploring Life Cycles– Pam Seekford, BES
Second Grade students will be exploring different life cycles, including exploring the life cycle of a chicken.  This grant will allow us to incubate eggs with our students and explore the complete life cycle, from egg to chick with a hands on experience for our students.  
 IBP Reinforcement Sensory Project– Carli Pope, BES
 In the IBP classroom, students are reinforced with games, sensory materials, fidgets, preferred seating, etc, along with staff attention to increase students' access to positive interactions.  These materials will help students build rapport and a strong trusting relationship with staff.
 Puppet Theaters in Pre-K- Jennifer Hornbaker, Pam Murphy & Leanna Zimmerman, BES
 This project will provide a complete puppet center for the pre-k classrooms at BES.  Puppets are a great way to give all children a chance to be creative, communicate, and interact with others. Puppets help improve language skills, creativity, social awareness, and so much more. Puppets can be used to help all children develop emotional awareness and give children the ability to share their feelings and their ability to be happy, sad, angry, funny or jealous. There are also a number of motor skills that children can improve through playing with puppets. 
 Ramped Up Reading PD Books– Sherry Newman & Lisa Knick, BES & CES
 This project is an extension of a professional development training teachers explored last year.  Through the study group "Teachers as Readers," CCPS teachers engaged with a book entitled Ramped Up Reading.  This grant will purchase the read aloud books referenced in the study for classroom teachers to use this year.
 CCHS Band Composition– Mark Curry, CCHS
This project will allow for a concert band piece written for the CCHS band. Two composers, Dr. Ryan Keebaugh and Ms. Mary Russman, will collaborate to produce a composition especially written for Clarke. The piece will be taught by the composers to be debuted on May 10, 2023!
Floor Hockey in PE- Lauren Allison, CCHS
This grant will allow us to implement a floor hockey unit for all of our Physical Education and fitness classes. With this floor hockey equipment, we could provide an additional sport to teach with safe equipment. This unit would incorporate skills to improve hand-eye coordination and teamwork. It will benefit all our PE and fitness classes.
 Heat Press for the Art Room– Chrissy Schmohl, CCHS
 This will allow the art room to add a heat press.  We will use it for making t-shirts, tote bags, and other items. It can be used to set HTV (Heat Transfer Vinyl) that has been cut with our classroom Cricut or ink from screenprinting. This will open up possibilities for students to create professional looking spirit wear for themselves or fundraisers.
 Horticulture Projects in Agriculture– Allyson Snapp, CCHS
The grant will be used to initiate new projects or expand existing projects that promote agriculture literacy in students. These would be innovative lessons, activities, classroom resources, and other projects for the greenhouse.
From Readers to Authors– Katheryn Welsh, CES
This project is intended to allow students who have created written works, class projects, and mentor text responses to have their work published in spiraled books. These books could be used among multiple grade levels as mentor texts, or kept in the classrooms to refer to year after year for author study projects.
Literacy Centers– Barbie Yeager, CES
Orton Gillingham supports the Science of Reading. CCPS is moving towards this explicit teaching with reading skills and, therefore, need more materials to support it. This grant will help continue add to the program and improve teaching while making learning more fun for the students.
 Transitional Learning Classroom Sensory Items– Jennifer Mooney, CES
 These sensory items will provide sensory input for students who require sensory breaks or sensory items to restore focus and improve self-regulation. Access to sensory items assists in the de-escalation and/or prevention of problematic behavior, overstimulation, anxiety, and aggression. Access to sensory items has proven to improve communication, increase skill acquisition, nurture a student's independence and educational success, and offer opportunities for students to calm and alert their nervous system.
 Increasing Hands-On Activities in Agriculture– Lauren Belzer
 This project is designed to increase hands-on opportunities for students in the agriscience classes. By letting students experience various aspects of agriculture first-hand, they will be able to better retain what they have learned and will gain a greater appreciation and respect for the farmers who meet our food and fiber needs!
 Bocce Ball for Middle School PE– Shane Markward, J-WMS
 J-WMS is excited to introduce and teach the sport of Bocce Ball as part of our Backyard Games unit.  Students will have the opportunity to learn about the history of this lifetime sport as well as how the sport has positively impacted different organizations like the Special Olympics and Senior Olympics.  Students will also have the opportunity to play themselves!
 Wireless Scoreboards for Sport Education in PE- Sarah Casey, J-WMS
 J-WMS PE has been using the Sport Education model since 2017 to teach a wide range of PE standards. Sport Education is an instructional model that empowers students to play and appreciate dual and team sports as well as manage the sporting events through refereeing, coaching, scorekeeping, and other roles. Students take ownership of their PE experience and are highly engaged! Exciting equipment enhances the sport education experience to a new level. These wireless digital scoreboards, along with the referee jerseys and electronic whistles that we already have, will make every game as authentic as possible, all year long!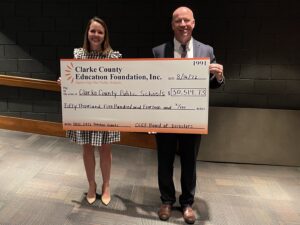 In addition to Classroom Impact Grant Funding, the CCEF celebrated $50,514.73 in total grant funding in the 2021-2022 school year by presenting a commemorative check at the event.
 A few additional highlights from the CCEF include:
Sponsored the Clarke Innovation Conference bringing amazing professional development to all of our CCPS teachers and staff,
Brought world renown author, Gordon Kormon to our Middle School students,
Partnered with the Discovery Museum to bring virtual and in-person field trips to our youngest learners at both BES and CES,
provided at home wifi to students in need through wifi hotspots purchased through the Dr. Richard M. Lewis Academic Access Fund,
hosted some amazingly successful fundraisers,
AND gave away our MOST EVER in student scholarships- $53,300!
 The Clarke County Education Foundation, established in 1991, is an independent public charity dedicated to promoting, expanding, and augmenting the educational opportunities for students and staff in the Clarke County Public Schools, by generating private support and involvement to enhance these publicly-maintained services. The CCEF has provided more than $3.2 million in student scholarships, teacher grants, system demonstration grants, and donor-defined projects through a combination of fund-raising and endowment income since its inception.  For more information visit www.ccefinc.org